Impressions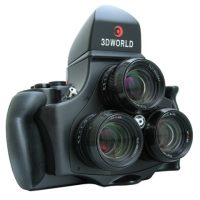 When these page was first written (September, 2006), I had not yet seen any images from the camera. I have since put many rolls of film through my TL120 and am always pleased with the results. The lenses are wonderfully sharp and seem to be distortion free.
I have scanned one example image from the camera as well as a crop from the same image. It is one of the better images from the very first roll out of the camera but is simply film slapped on the scanner. It is not a mounted image and I am not an expert with a scanner. When viewing this image, please consider that a scanned image on a computer screen does no justice to the original image on film.
The TL120 is heavy but fairly well balanced. I wouldn't try using this camera without a substantial neck strap. For best results, you will need to use a tripod and it had better not be a light-weight one.
Ergonomically, it is an improvement over the Sputnik but there are a couple of oddities. The most significant is difficulty I have using the internal meter. The shutter-speed knob is located very close to the viewfinder shell which makes it very difficult to quickly adjust the shutter speed. While peering through the viewfinder and pressing the meter button with my left thumb it is very awkward to adjust the shutter speed with my right hand. It is much easier to half-press the shutter button with my right index finger and adjust the aperture with my left hand. Used this way, the camera becomes a shutter-priority camera when what I really want for my stereo views is aperture-priority. I continue to use my hand-held meter for most of my shooting. Next

---
[ Up ] [ TL120 Features ] [ Loading ] [ Framing ] [ Exposure ] [ Advancing ] [ Updates ] [ Comments ] [ Purchasing ]