A significant difference is visible in the area of the focusing screen.

The electrically connected photo-cell in the prism is gone. The photo-cell is now in the camera body and receives light from a bundle of fiber optic cables in the prism.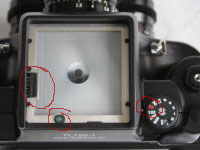 The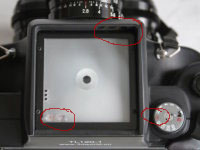 fibers could be dispersed over the image area (providing center weighted metering) but I don't know if they are.
It is worth noting that while the meter's sensor is on the camera body, the meter readings will be meaningless if the 3D World prism finder is not installed. Without the fibers in the prism providing the correct amount of light to the sensor from the image you are composing, the light the sensor will see will have no relevance to the image you are trying to make. This means that while you can still install a Hasselblad finder on the TL120, the built-in meter will not function correctly.
The spirit level has been moved from the body to the prism and is well lit by a dedicated window. This makes it much easier to see in the darkened viewfinder.
The meter LEDs are set a little farther to the side.
The indicated flash synch speed is now 1/60 second.