Our Folios are traveling portfolios of medium-format stereo slides.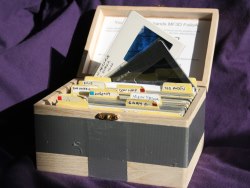 The purpose of the portfolios is to share images among a group of artists.  The process is quite simple:
Receive the portfolio box (usually by mail).
View and comment on the images in the box.
Replace your images in the box with new ones.
Send the box on to the next artist.
In eight to ten months, the box comes back around.  Having visited each of the other artists, the box now contains all new slides and the cycle continues.
The folio contains works from artists in North America.  Most of them are original works and many are irreplaceable.  Please treat them with respect and care.  If there are any questions at all regarding any aspect of the folio, its handling, the condition of the slides, or shipping, please contact one of the administrators.
FAQ
How much does it cost to participate? – There are currently no administrative costs or membership fees.  You don't have to be member of any group or pay dues to any organization.  The only cost to you is the cost of sending the package on to the next participant.
Who can participate? – Any artist in North America who produces medium-format stereo images may participate.  The only requirement is that you be a responsible and trustworthy adult.

What images are permissible? – Anything you can record on film is acceptable.  This includes nudes, computer generated images, dark-room manipulated images and anything else you can think of.  The images must be mounted in 80×132 (cardboard) or 80×140 (plastic) mounts.  Glass mounted slides are not permitted.  Protective plastic sleeves are encouraged.
I have to put my slides in the mail? – A'yep.  That's how the box gets around.
What if they get lost? – If the box gets lost, the images are gone.  It's a risk.  Losses happen.  Damage happens.  But they don't happen very often and life goes on.  If you have an absolutely irreplaceable image, maybe it should be shared by means other than a traveling portfolio.
I've only been shooting for a few months.  Can I still participate? – Each of us was once a newbie.  Other artists want to see your work.  If you are willing to share, please do so.   You will receive useful feed-back on your work and have the opportunity to view the work of others.
Can I get help mounting my images? – If you need help mounting images, just ask!
How long does the folio take to "cycle"? – Eight to ten months is a normal cycle.
How many slides may I submit? – You may submit up to four slides each time the box comes around.
How many slides must I submit? – You should be able to submit two images each time the box comes around.