• Tuesday, September 23rd, 2008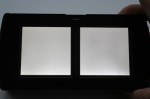 Behind every good viewer is a good light source.  3D World has built an LED powered edge-lit panel for use in their new focusing viewer.  While I think I can build a good illuminator, I know I wouldn't be able to build anything this good at the price 3D World is offering their viewer.
Because it's so neat to see someone else's work in an area I've long pursued, I have an entire page devoted to the 3D World Illuminator.