The A200 Story
When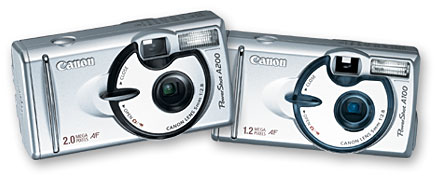 I built my A100 twin, my intention was to prove the concept, sell the twin A100 and use the proceeds to buy the materials to build a twin A200 rig.
Then I left my twin A100 in the trunk of a rental car and I never saw it again. Was it lost or was it stolen? It doesn't really matter. I was out a camera and the capital to finance my A200 project.
But I couldn't stand to be without a camera so I went shopping. From my local store, I was able to buy a pair of A200 cameras and two 32MB flash cards for less than $350. I was off and running again.
I had the benefit of my A100 experience and there were a couple of things I wanted to do differently. I wanted to try the project without strapping the power supplies together, and I had to find a better way to perform the final alignment steps.
The rest of the A200 story will make much more sense to you if you take a moment to read through the notes I made concerning the A100. It will only take you ten minutes, and the rest of this will make much more sense.