| | |
| --- | --- |
| Six Frames . . . Why Bother? | |
If, like me, you are shooting slide film in your Rolleidoscop and mounting the resulting images in 50x50mm cardboard mounts, the stock rectangular images are not working in your favor. By reducing the width of the film apertures by a few millimeters and using a different advance sequence, the Rolleidoscop can easily produce six stereo images on the same roll of 120 film that now holds only five. It's like getting an extra image for free!
Film Advance Anatomy
120 film has frame numbers for three image formats printed on its backing paper.
From top to bottom they are:

Image Size
(cm)
Spacing
(mm)
Per Roll
6x4.5
47
16
6x6
64
12
6x9
94
8
Like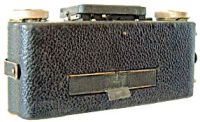 many 120 cameras, the Rolleidoscop, has a window through which you can watch the frame numbers as they go by and know when to stop advancing the film. Unlike most other cameras, the window is a 75mm wide rectangle rather than an 8mm round window.
The window aligns fairly well with the middle row of the 6x9 numbering. This means it is possible to see the numbers when they arrive in the window but almost impossible to see the warning-dots preceding the numbers. You need to watch carefully for the incoming numbers!
On the underside of the 75mm wide door are two sets of numbers (582 and 471) that indicate the correct advance sequence. After loading a fresh roll, advance the film until the number 1 lines up with the rightmost arrow. Frame two is ready when the number 2 lines up with the leftmost arrow. You skip number 3 and line the number 4 up with the rightmost arrow and so forth.
| | |
| --- | --- |
| Film # | Arrow |
| 1 | Right |
| 2 | Left |
| 4 | Right |
| 5 | Left |
| 7 | Right |
| 8 | Left |

Original Advance Sequence
By this scheme you can get six exposures on a roll of 120 film. The catch is that there is insufficient film for the last image pair and the sixth image will not be stereo. In the end you get five stereo images and one half-image.
By changing the advance sequence, it is possible to cram six stereo pairs onto a roll of 120 film. This involves a different film advance sequence and advancing your film very precisely to prevent image overlap. I tried this for a few rolls but found I was seldom precise enough in my winding to prevent overlap. The results were less than satisfactory and I sought a better solution. Next