The lens board is suspended on a 4" square U-bolt. The nuts above and below the board allow me to adjust the height of the board with respect to the base. It also permits left-right leveling of the board.
The underside of lens holders and board have been painted with Krylon ultra-flat-black spray paint.

The 4" square U-bolt is set into a small groove in the base and attached with two thumb-screws. Two T-nuts are countersunk in the underside of the base-plate to receive the thumb-screws.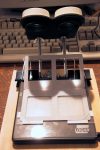 To allow easy access to the slide mount, the lens stand must be able to tip back. The thumb-screw/fender-washer combination allows me to adjust the stiffness of this motion and disassemble the jig for transport.